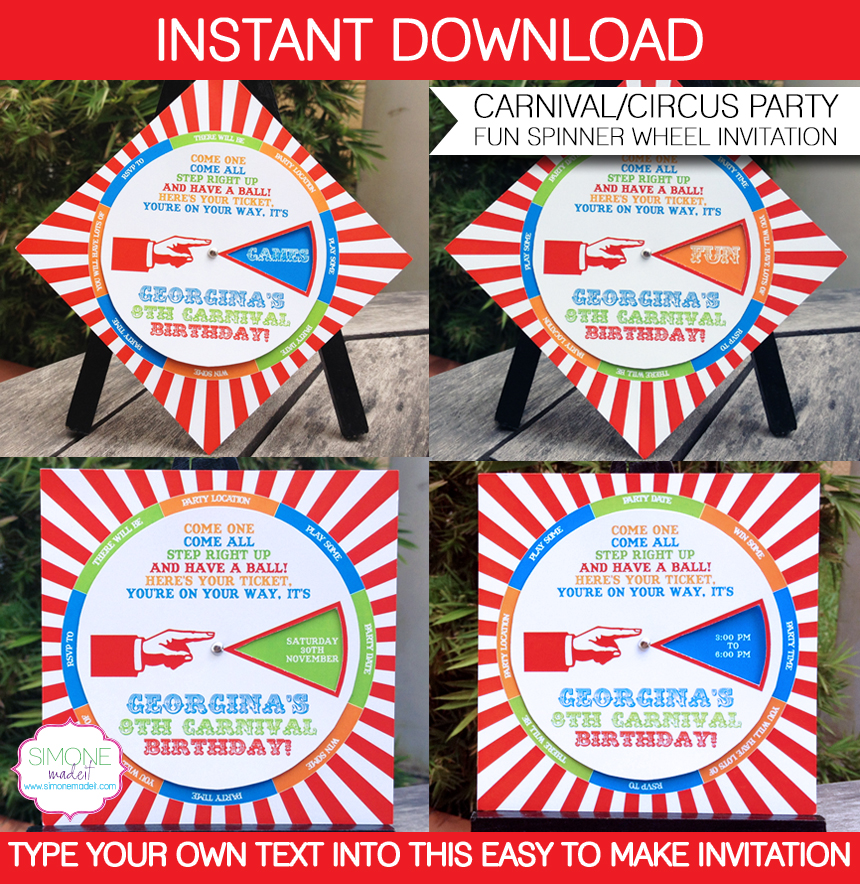 This fun new Spinner Wheel Invitation is part of my Carnival Printable Collection.
I have had a few people ask if it is difficult to make – well, the answer is NO! Take a look at the following easy steps to create your own interactive Carnival or Circus Party Invitation!
After downloading my Carnival Party Invitation (included in my Carnival Printable Collection), open the PDF file and personalize the invitation template.
I have created the above video tutorial to show you how easy it is for you to personalize the invitation template at home.
After personalizing and printing, your page will look similar to mine above.
Using scissors or a paper trimmer cut out the 5 inch square Invitation Base.
Now, cut out the 4 inch Top Spinning Wheel. I used scissors but you can also use a circle cutter if you have one. Try to cut just inside the circular outline so the outline won't show on your finished invitation – don't cut too far inside though!
Taking an exacto knife (or any kind of craft knife – I used a stanley knife that we had lying around), cut inside the red triangular border that you can see on the Top Spinning Wheel (don't cut out the red border!).
This will create the viewing window for your invitation.
Poke a brad (or paper fastener) into the middle of the black dot on the top Spinner Wheel.
Then continue to poke the brad/paper fastener through the black dot in the middle of the Invitation Base.
It's important to make sure you are putting the brad/paper fastener as close to the center of both black dots as possible!
It may be helpful to use your craft knife to poke a small hole through the black dots on both the Invitation Base and the Top Spinning Wheel before you attach the brad/paper fastener.
Turn your Invitation over and flatten the ends of the brad/paper fastener.

And there is your finished invitation!
Spin the wheel around to see all your party details!
This invitation is included in my Carnival Printable Collection – along with 35 other pages of Carnival printables all for only $12.50 – available as an Instant Download!