Jen from The Pickled Nipple recently held an Astronaut Training Birthday Party for her son's 3rd birthday. Oliver requested a Space party and Jen delivered with fun Astronaut activities and even a guest appearance by an Astronaut!
Mission Control
On arrival, each child was directed to Mission Control to collect their gear.
Each child was given their own Buzz Lightyear wings (perfect for a younger age group like this), an Astronaut Training Center Pass & an Astronaut Training Checklist, both from my Space Party Printables collection.
Jen customized the Astronaut Training Passes with each child's name for a personal touch.
The Training checklist was also customized with Jen's own Space themed activities. Jen tailored these Astronaut training exercises to young kids and the children needed to tick off each activity as it was completed.
Astronaut Training Party Games
I love Jen's creativity with her party games. She used play equipment that the kids were familiar with, and renamed them to match her Space Party theme. The signs are included in my Space Party Printables.
Rocket Ship Launch
Rocket ships were launched with a stomp on the launching pad.
Lung Capacity Test
Bubble blowing is the perfect test for the Lung Capacity of 3 year olds!
Moon Dust Collection
Jen used "snow" that she purchased online. The snow is non-edible and cold to the touch – perfect for outer space Moon Dust! Jars were placed next to the activity for the kids to 'collect' and take home as party favors.
Space Race
Jen set out cones around the yard and the kids raced each other around the cones with their Buzz Lightyear Wings. It looks like the rain only added to the fun!
Comet Catch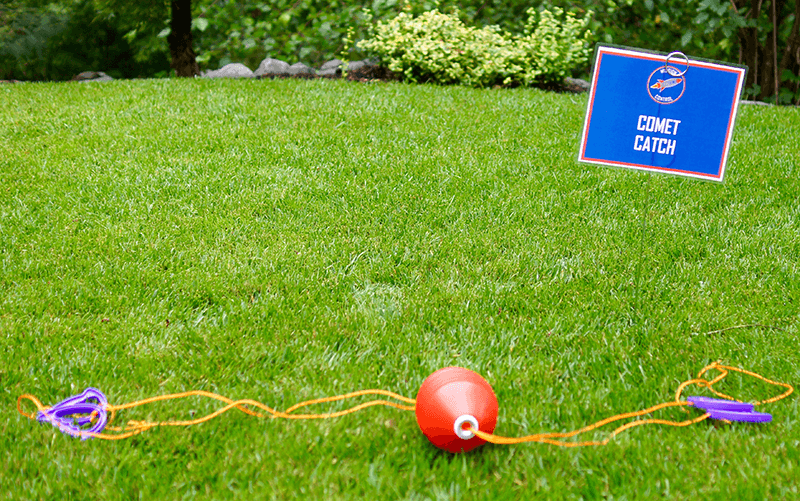 Catch a comet with this fun game.
Orbit Jump
Children had to jump over the spinning bar in the Orbit Jump.
Space Party Hydration Station
After all that activity, young Astronauts need to be hydrated.
A bucket, a sign and some water bottles are all you need for a Space Hydration Station!
Space Party Birthday Cake
To dress up cupcakes with a Space theme, Jen used foil wrappers from her local craft store, a cupcake frosting tip, and silver dust with star sprinkles.
A store bought cake was decorated with plastic Space Shuttle and Astronaut figurines.
Astronaut Training Party Favors
I bet the little kiddos loved the guest appearance by Oliver's Dad as an Astronaut!
He arrived at the end of the party and handed out Astronaut Ice Cream and these Certificates to each of the kids:
Jen used the Certificates from my Space Collection and personalized one for each of the little Astronauts attending the party. Her certificates were signed by Commander Buzz!
I hope you have found some ideas and inspiration for your own Outer Space mission! Thanks Jen for sharing all the details of Oliver's 3rd Astronaut Training Birthday Party!