Welcome to "Kamp Kidd"! Angelica recently sent through these photos of her son Sebastian's 5th Campout. Keep reading for creative Camping Birthday Party Theme Ideas!
Camping Birthday Party Cake
A camp fire cake is the perfect birthday cake for a Camping party.
Angelica has decorated her camp fire cake simply with chocolate icing, rolled chocolate wafer sticks as kindling, and shards of red & yellow sugar glass for the flames.
Placed on a rustic round wooden block, this cake takes center stage on the party table.
Camping Birthday Party Food Ideas
A 'Make your own Trail Mix' bar at a Camping Party is a great idea for fussy eaters!
Angelica has placed a basket of nuts, dried fruit and chocolate in Mason jars with paper bags nearby for guests to make their own.
Candy takes on a Camping theme at Sebastian's party with some creative naming.
Grizzly Bears (gummy bears), Twigs (small Twix bars) and Snakes (red licorice sticks) are placed in glass jars with tags from my Camping Party Printables collection.
Rainbow Trout (colored Goldfish crackers) and Catch of the Day (red candy fish) are my favourite.
What 5 year old wouldn't love some Worms in Dirt! Swirled chocolate & vanilla pudding is placed in individual plastic cups as soil with crumbled chocolate dirt and candy worms on top.
Angelica has again used my Camping Party Printables to wrap Hersheys 1.55oz candy bars and Hersheys Miniatures.
The mini candy bars have been placed in cello bags and enclosed with a topper from my printables too. These also make easy party favors!
Camping Birthday Party Decorations
Angelica has come up with some fun and imaginative decorations to fit in with the camping theme.
Her party table looks great with a hessian tablecloth and customized banner. The candy jars have been placed on a wooden crate with some small potted plants on either side to give an outdoorsy vibe.
Angelica personalized the printable banner from my Camping Party Printables to say "Happy 5th Birthday". This is an easy way to create a backdrop for your party table.
A fishing Tackle Box has been filled with colorful candy worms, bobbins and a Gone Fishin' sign to make a fun table decoration.
It wouldn't be camping without some wild animals. Angelica has used giant soft teddy bears to help decorate her party and tied them into the camping party theme with "Please DON'T feed the Bears" signs.
Beware of Wild Animals! A cute homemade tent, large tree cut-outs (decorated with green tinsel!) and more giant teddy bears create a little backyard campsite.
Camping Birthday Party Activities
A camping theme is ideal for some outdoor-oriented party activities.
A Nature Scavenger Hunt is an easy activity to prepare with the Nature Scavenger Hunt list from my Camping Party Printables. Angelica has personalized the Scavenger Hunt List with her own items and glued it to the front of paper bags.
I love the plastic binoculars and whistles to help the kids hunt for items around the wilderness of the backyard.
I love the red "Kamp Kidd" t-shirts too!
A Kamp Kidd fishing hole has been set up as another party activity.
Kids love Pinatas and this owl is a huge one!
Camping Birthday Party Favors
Angelica put together some fun Camping party favors.
These swags are my favorite. The red fabric perfectly complements her party colors and tying them to twigs for display is another great idea.
The "Go Take a Hike!" sign is a cute touch too.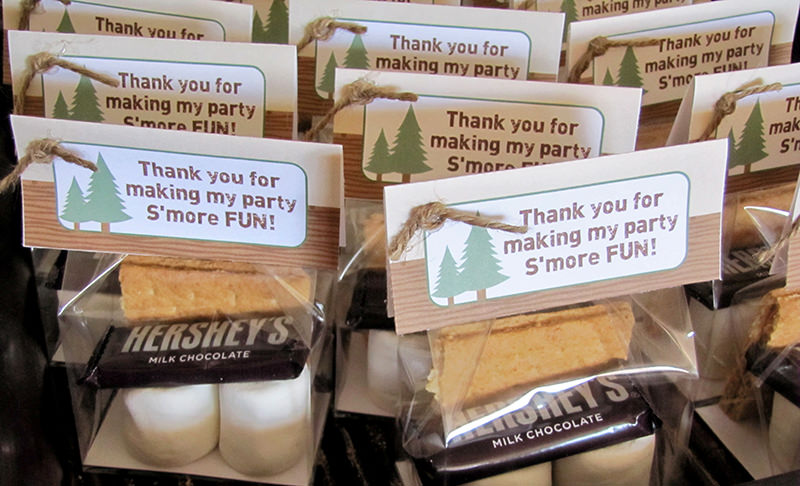 Party guests are going home with 'S'more' fun with these favors. Graham crackers, large marshmallows and a small Hersheys bar are enclosed in a cello bag and another topper from my Camping Party Printables collection.
I hope these pictures from Sebastian's 5th Camping Birthday Party have given you lots of inspiration for your Campout. Thanks for sharing Angelica.
My Camping Party Printables can be personalized by you at home & used over & over again! Purchase them from the shop for just $12.50: CAMPING PARTY PRINTABLES.