Paris Baby Shower theme printables are new to the shop and come in either Pink or in Blue:
These Paris Baby Shower theme printables include all the same templates as my Paris Birthday Party printables, but have been slightly changed to suit a baby shower.
The templates are editable in the free Adobe Acrobat Reader. This means that you can type over my sample text with your own wording easily at home. You edit and print each page as many times as you like. Plus all fonts have already been embedded in the files too!
Paris Baby Shower Theme Invitations
The unique Invitations are a fun way to invite guests to your shower. The full Invitation Suite includes a Post Card Invitation, Boarding Pass and Passport – all presented in a Folio.
Don't want to send out all of these? You can just use the Post Card as an Invitation on it's own. That's the beauty of printable templates – you decide what ones you would like to use.
Post Card to Paris Invitations

You are able to edit all areas of the 4×6 inch Post Card to Paris Invitations.
You can even change the default 'Carte Postal' text in the middle of the Postmark to a Name or other text!
Paris Boarding Passes
All areas of the Boarding Passes are editable to allow you to type in your own baby shower details. Change the Passenger, Destination, Date of Departure, Boarding Time & Gate headings to other text too.
You can even change the Barcode!
Paris Passports
Using a different language? Translate the Passport text on the font cover to your own language!
Passports can be given to each guest, with their own individual details inside. Again, you are free to change the headings and even the Paris Invitations Suite Folio

Place the Post Card, Boarding Pass & Passport into a Folio for each guest.
You can also edit the text on the front of the Folio to suit your Baby Shower.
Paris Baby Shower Theme Decorations
Paris Banner
Customize the Banner pages to create your own banner message. Each page has 2 pennants – you edit each letter on the pennant to spell out your message.
Use the Banner Spacer (pennant with the Eiffel Tower) to separate words. After printing, trim each pennant out and thread with coordinating ribbon to hang.
Paris Baby Shower Cupcake Toppers
Customize the 2 inch Cupcake Toppers with your own text – or simply use my sample text.
I punch out my Cupcake Toppers with a 2 inch circular punch. Don't have one? Trim out with scissors and use as squares instead.
Paris Baby Shower Water Bottle Labels
It's easy to dress up Water Bottles with these fun labels. Remove the existing wrapper and replace with your personalized one.
These Water Bottle labels are sized 8 inches wide x 2 inches high and will fit small water bottles.
Paris Baby Shower Food Labels
Type the food you will be serving into these folding Food Labels. You can edit and print these labels as many times as you like.
You can even use them as Placecards as well, by typing in guest names instead of food.
Paris Baby Shower Menu
Print off a Menu for your Parisian Cafe! It's ready for you to type in the food you will be serving.
There are 2 sizes of Menu included – a full page one and also 5×7 inches.
Paris Baby Shower Candy Bar Wrappers
Wrap 1.55oz Hershey's Candy bars with these fun wrappers. Personalize the text on the front of the wrapper to suit your own shower.
Don't have access to Hersheys where you live (such as Australia or the UK)? I have used these wrappers on M&M"s 49g packets!
You can change the Nutrition Facts on the back of the wrapper too. Customize them with personal 'ingredients' for your mom-to-be.
Paris Baby Shower Thank You Notes
After the Baby Shower, I have made it easy for you to thank your guests. You simply type in your own thank you message into the 4×6 inch Thank You Notes.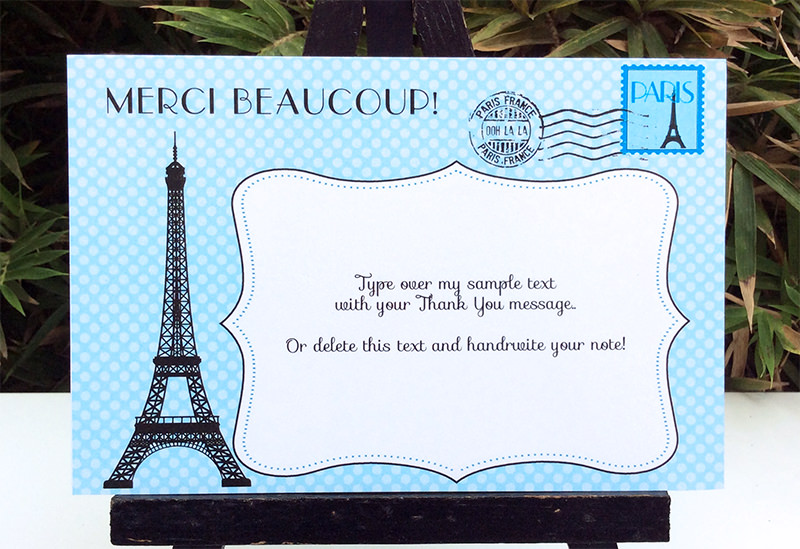 Prefer to handwrite them instead? You can just delete my sample text before printing to print out a blank note.
There are lots more templates included in these Baby Shower Theme Printables too!
Download links are emailed directly to your inbox and will include ALL these templates:
Postcard to Paris Baby Shower Invitations (4 x 6 inches)
Passports (personalize for each Guest!)
Boarding Pass (personalize for each Guest!)
Folio to hold the Invitation, Passport and Boarding Pass
Favor Tags / Thank You Tags
Thank You Notes (4 x 6 inches)
Menu (full-page & 5 x 7 inches) blank – you type in your own menu
2 inch Party Circles, 2 pages! (use as Cupcake Toppers + more)
Cupcake Wrappers
Food Labels, folding (or use as place cards)
Small Water Bottle Labels (or use as napkin/treat wraps)
Party Tags (3.5 x 3.35 inches)
Kisses circles (fits Hersheys® Kisses)
Candy bar wrappers (fits Hersheys® 1.55oz Bars)
Table Signs (5 x 7 inches)
Food Picks
Welcome/Game/Party Signs (11 x 8.5 inches)
Pennant Banner (Happy Birthday or your own banner message)
Favor/Treat Bag Toppers (2 styles)
Patterned Papers
Want to see more before purchasing?
View all the details and more images in the shop here: PINK Paris Baby Shower Printables
View all the details and more images in the shop here: BLUE Paris Baby Shower Printables
Please note templates CANNOT be edited for color, size, graphics or backgrounds in any graphic design program. Templates will ONLY work in Adobe Reader on your computer or laptop (not on a mobile device).