Ready up! Fortnite is the only video game my son wants to play and is currently the chosen theme for his next birthday party! With that in mind I have created a collection of printable Fortnite Birthday Party Decorations to help make planning a Fortnite themed party easy.
Printable Fortnite Birthday Party Decorations
How it Works
Instant Downloads
Left your party planning to the last minute? Me too – I do it all the time! This instant download is perfect for us procrastinators – you can download the templates immediately after payment.
Editable text
All my printable Fortnite Birthday Party Decorations templates have an editable text feature. This means that you use Adobe Reader (a free program that is already on most computers) to easily edit my sample text by yourself at home.
Just open each template in Adobe Reader on your computer, highlight my sample text and then start typing in your own. It really couldn't be easier.
Easy Printing
Each template is formatted for easy printing at home on 8.5×11 inch white Cardstock (however you can also print on A4 sized Cardstock if you are in Australia, UK or Asia!).
Not sure you home color printer is up to the task? Take them to your local copy shop (such as Staples, Office Max, Fedex, Officeworks etc) for printing instead.
Cut and Assemble
After printing, cut out each design on the helpful trim marks. Some of these Fortnite designs will then need assembling or folding – but don't worry, the included instructions will guide you through it.
Fortnite Birthday Party Invitations
Once you are 100% loaded for your party, invite guests to hop on the battle bus for a Birthday Royale with my Fortnite Ticket Invitation.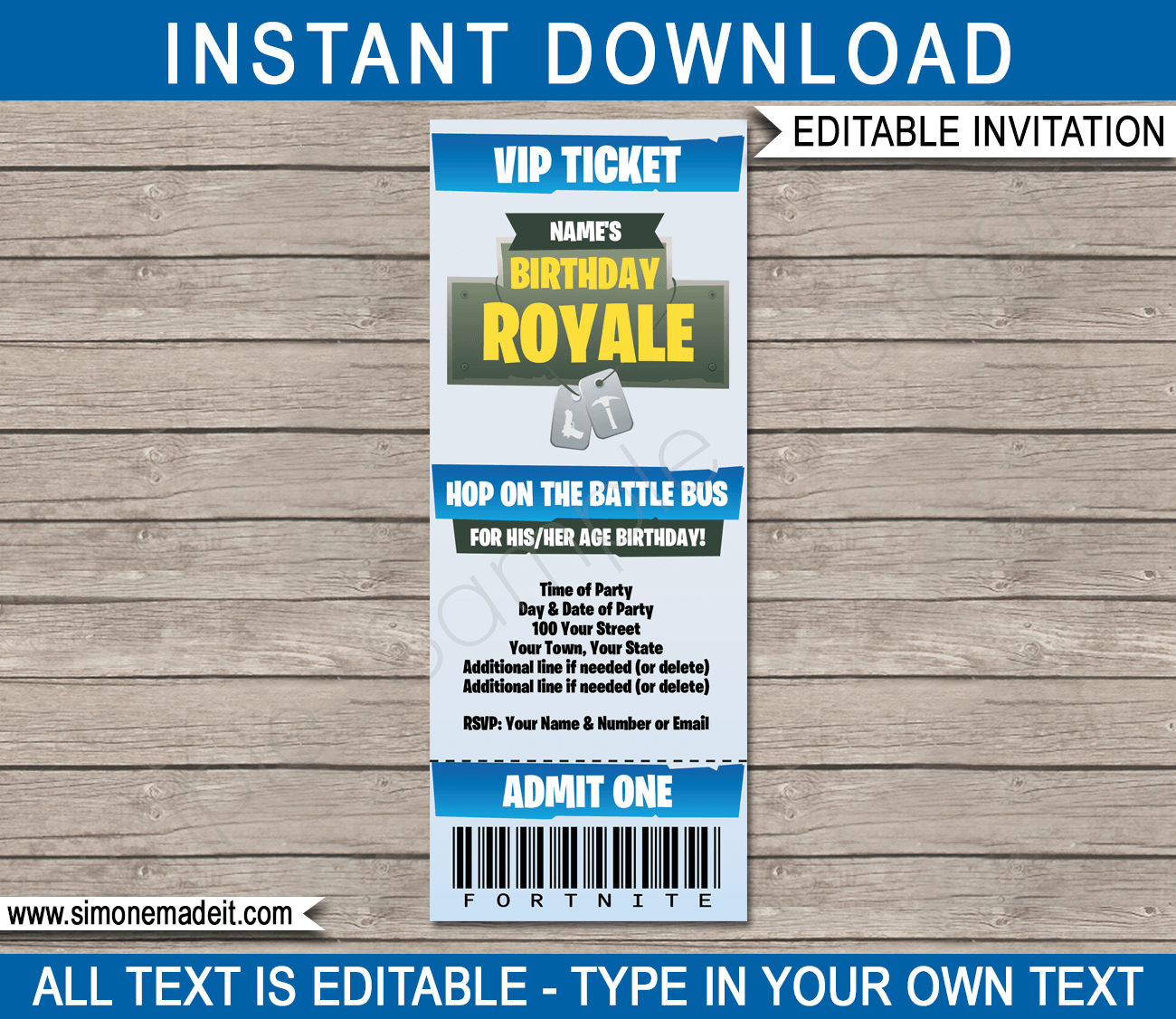 This invitation is sized 3×7.5 inches and there are 3 x tickets per page.
As my sample text is completely editable, you can type in anything you like over my my sample text. Even the barcode at the bottom can be changed too!
Want to save paper this year? Or left sending out your invites to the very last minute? See how to get your invite ready for emailing or uploading to social media.
Fortnite VIP Passes
Guests will feel like Battle Royale winners when you give them their own personalized Fortnite VIP Pass.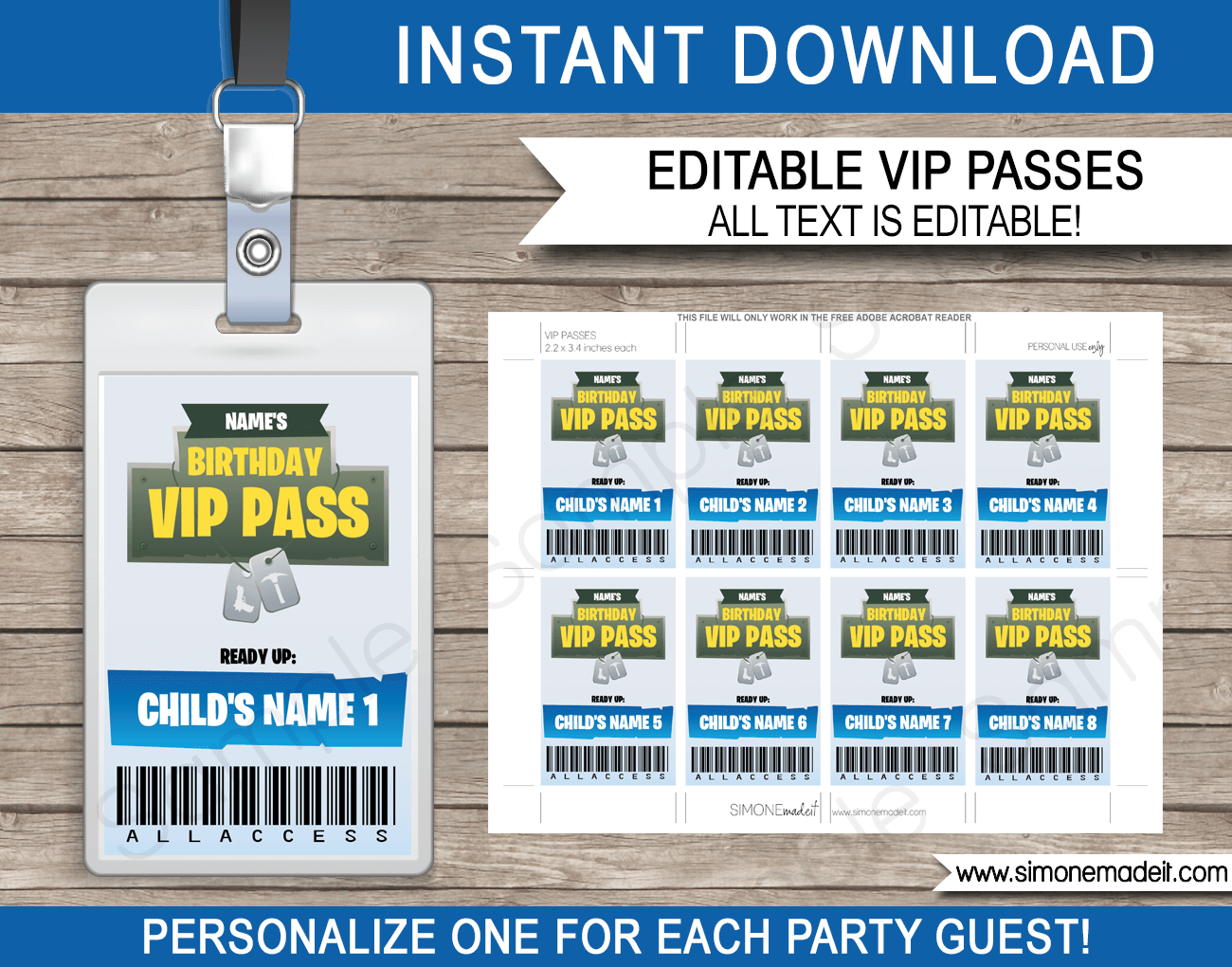 Each of the 8 VIP Pass on the page can be personalized with the birthday child's name AND each guest's name too. Have more than 8 guests? Change the names and reprint the page as many times as you need.
The inserts are 2.2 x 3.4 inches each and fit standard vertical ID Badges from your local copy shop or even Walmart. Add a lanyard and they are ready to go!
For a cheaper DIY option, you can also laminate, holepunch and thread a ribbon through each pass.
Fortnite Birthday Party Decorations
Decorating your Fortnite themed birthday party has never been easier than with these printable decorations.
Fornite Bandages
Easily create Fortnite Bandages by using the Fortnite Bandage labels.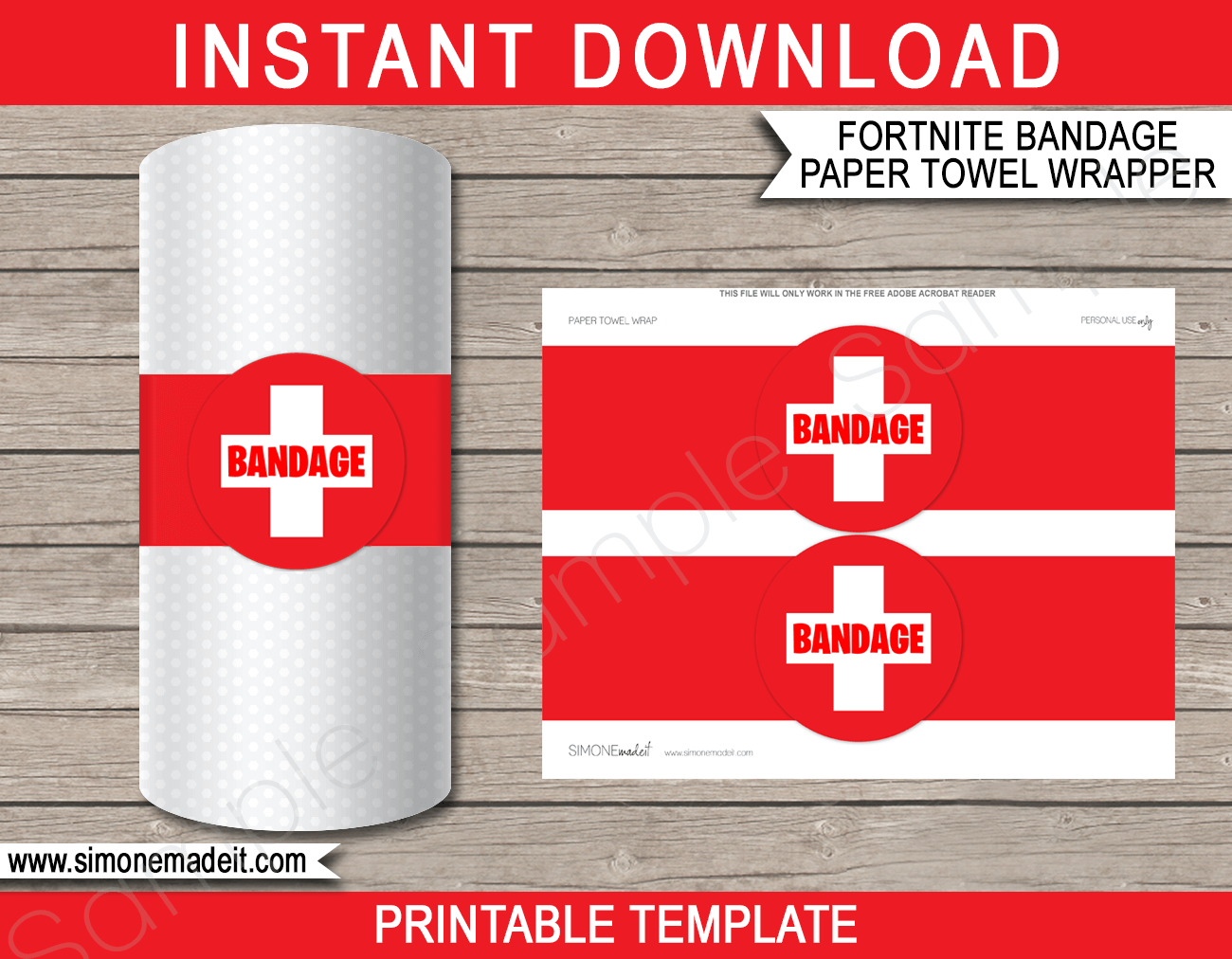 Simply wrap a label around plain old kitchen paper towel rolls and secure the ends with double-sided tape.
Fornite Medkits
Make your own Medkits (aka Hersheys Candy Bars) too!
Fold these wrappers around a Hersheys 1.55oz chocolate bar to create the yummiest kind of Medkit. There are 2 x wrappers per page and these are one of the easiest ways to tie in your party food to the Fortnite theme.
The warning sign on the back ties in with the game advising to "CONSUME WITHIN 10 SECONDS TO RESTORE 100% HEALTH" and "ALWAYS MAINTAIN SAFE SURROUNDINGS WHILE CONSUMING", however you can change that to any other text if you like.
Fornite Chug Jugs
Legendary Chug Jugs are a Fortnite party essential. Make your own by wrapping this label around a 12oz Gatorade bottle.
Each label is sized 8.5×3 inches. Choose an electric blue Gatorade for an authentic looking Chug Jug granting your guests full health and full shield!
Fortnite Water Bottle Labels
Planning to serve a a more healthy drink? Dress up plain water with these Fortnite Water Bottle Labels that you personalize with the birthday child's name.
Each of these wrappers is sized 8.5 x 2 inches – a perfect fit for small water bottles. Remove the existing wrappers and replace with these ones.
I like to customize a label with each guest's name for their own personal water bottle that doesn't get lost, but you can also label them as Slurp Juice or Chug Jugs too.
If you plan on getting your labels wet see a cheap way to waterproof your labels or buy full-sheet water resistant labels.
Fortnite Cupcake Toppers
There are 2 kinds of cupcake toppers in this printable Fortnite Birthday Party Decorations package.
You can choose the V-Bucks version:
Or the Battle Royale version that you personalize with the birthday child's name:
You can also use both! Punch out each topper with a 2 inch circular punch, or cut out the squares with scissors if you don't have a circular punch.
Not sure how to assemble them? Take a look at my Cupcake Topper photo tutorial.
Penannt Banner
This package of printable Fortnite Birthday Party Decorations has a Pennant Banner included.
The full "Happy Birthday!" pennant banner is perfect for quick no-fuss printing, OR edit the letters to print out your own custom banner message. You could get creative and print out a Fortnite themed message for your banner.
Each banner panel is sized 5×7 inches each and comes with 2 panels per page. After printing you cut out each panel and string together on a long piece of ribbon.
Fortnite Food Labels
Get your battle supplies ready with these editable Fortnite Food Labels.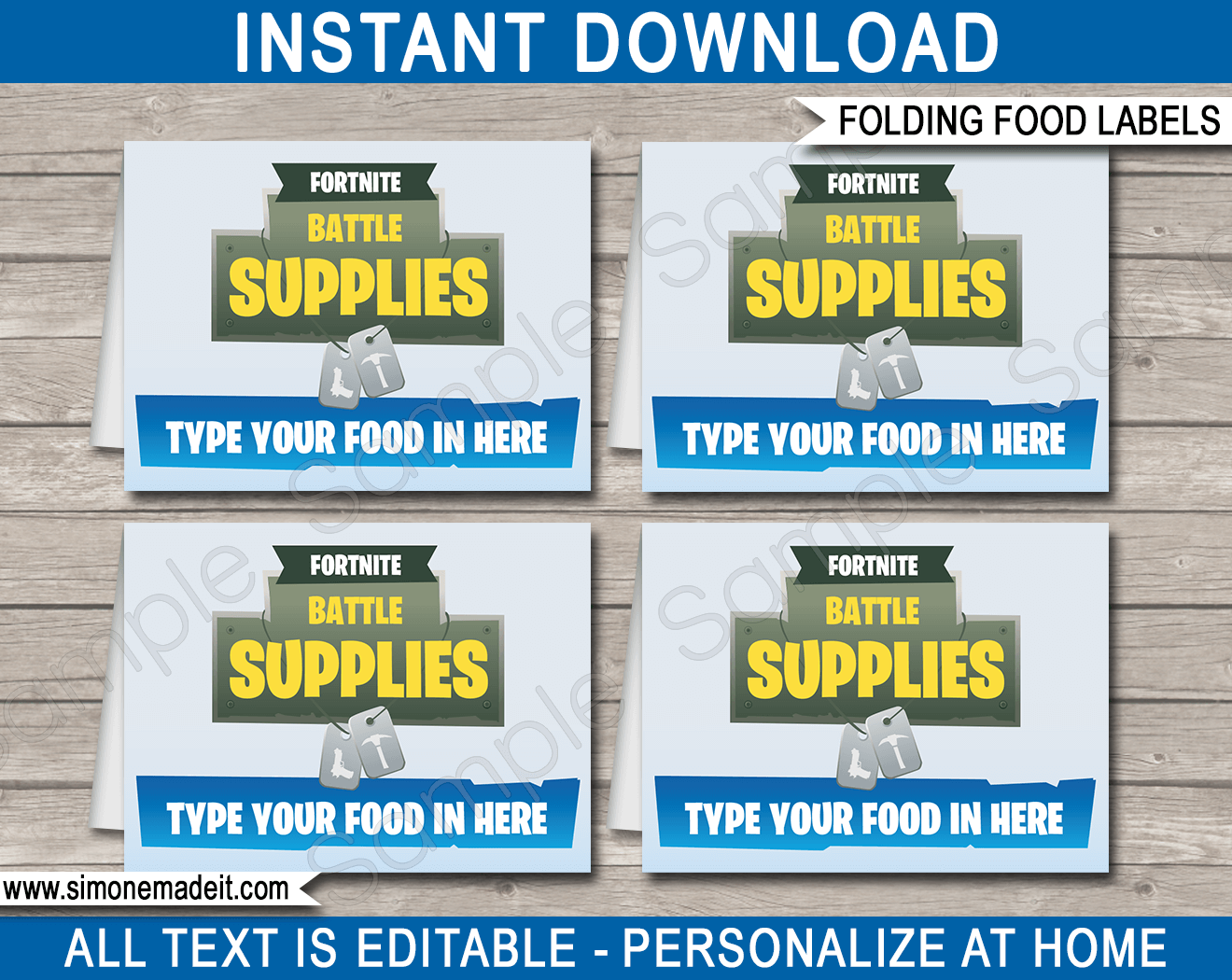 Each label is 3⅓ x 2½ inches once cut & folded and there are 4 labels per page. Need more? Edit the food names and reprint the page as many times as you like. You can also change the "Fortnite Battle Supplies" text too.
Fortnite Birthday Party Favors, Favor Tags & Thank You Notes
This package has a few different options for sending home your Fortnite birthday party favors and thank you's.
Fortnite Free V-Bucks Party Favors
Who doesn't like free V-bucks? Especially when they are really chocolate!
Cover 1.5 inch chocolate coins with the v-bucks 1.5 inch stickers. Then package them in a 4 inch wide clear cello bag and staple it closed with my V-Bucks Bag Toppers.
Fortnite Medkit Party Favors
Or send guests home at 100% health with these Medkit Party Favors instead.
Hersheys Miniatures are wrapped in the Mini Candy bar labels to create the mini Medkits. They are then placed in clear cello 4 inch wide bags and packaged up with my Medkit Bag Toppers.
Fortnite Party Supply Drop Tags
No Fortnite party would be complete without a Supply Drop!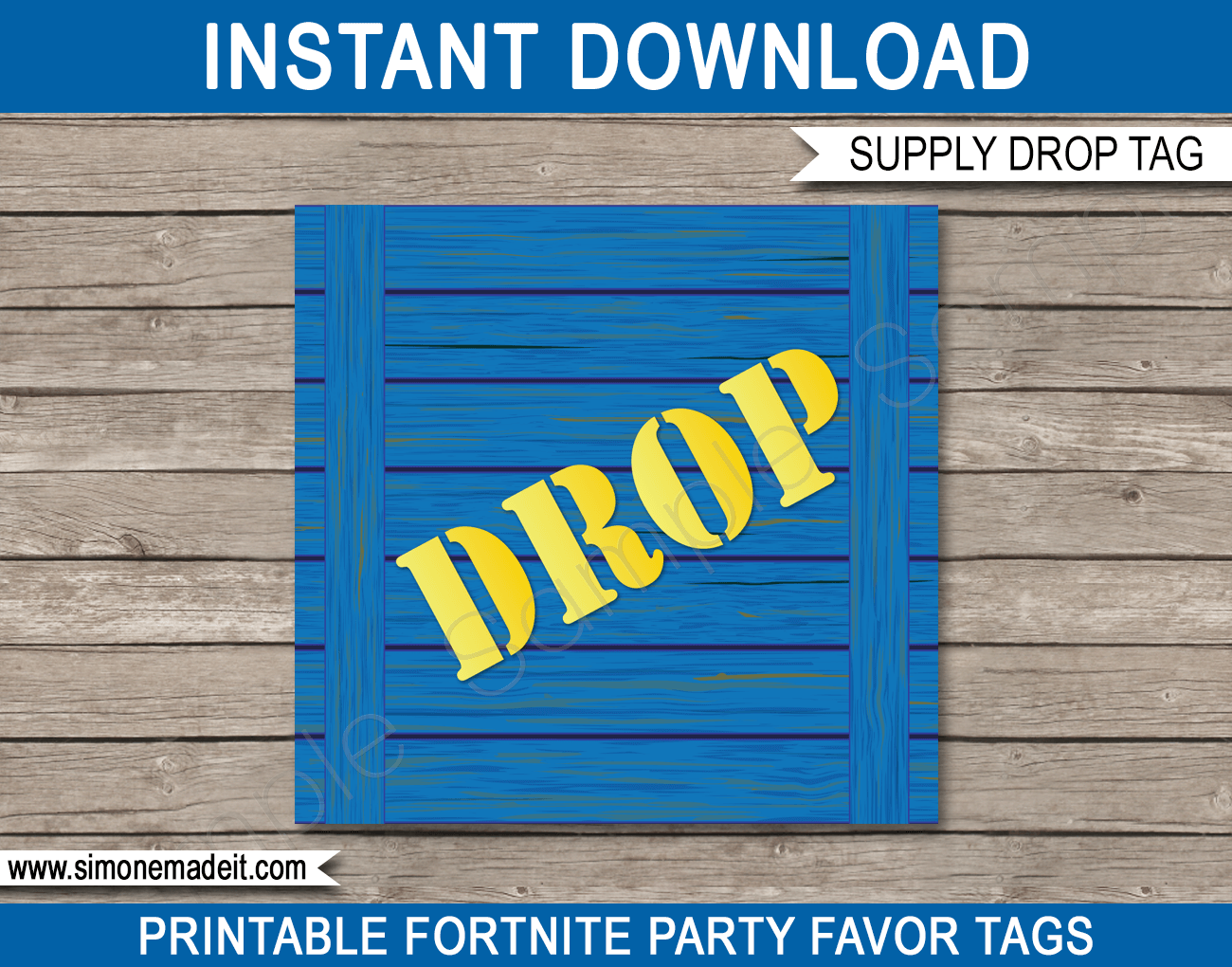 Each of these tags is 3.5 x 3.35 inches and the perfect way to send home your party favors.
Fortnite Party Favor Tags
You can also use these Fortnite Favor Tags for a more customized favor. Each of these tags is personalized with both the birthday child's name AND each guest's name.
There are 8 of these editable tags per page and each one measures 2¼ x 3½ inches.
Again, if you have more than 8 guests, you simply change the names and reprint the page as many times as you like.
Punch a hole in the white circle guide up the top of each tag and attach to your Fortnite party favors with ribbon.
Thank You Cards
Take the hassle out of sending your thank you's. Print these Fortnite Thank You Notes with your thank you message already typed in.
These are sized 4×6 inches (the perfect size to attach a 4×6 printed photo of the party to the back!) and there are 2 per page.
INCLUDED TEMPLATES:
Full Instructions
Ticket Invitations (3×7.5 inches)
VIP Passes (print one with each individual Guest's Name!)
Chug Jug Gatorade Label
Small Water Bottle Labels (or use as Napkin wraps or Treat wraps)
Medkit Candy Bar Wrappers (fits Hersheys 1.55oz Candy bars)
Medkit Favor Bag Toppers
Medkit Mini Candy Wrappers (fits Hersheys Miniatures)
Bandage Paper Towel Wrap
V-Bucks Favor Bag Toppers
V-Bucks 1.5 inch circles (for 1.5 inch Chocolate Coins)
Thank You Notes (4×6 inches)
Favor Bag Toppers (4 inch wide)
2 inch Party Circles (use as Cupcake Toppers, Gift Tags etc) – 2 pages
Party Tags (3.5 x 3.35 inches)
Party Tags – Supply Drop (3.5 x 3.35 inches)
Party Tags – Victory Royale (7 x 1 inches)
Folding Food Labels (or use as Placecards)
Welcome Sign (8.5×11 inches)
Party/Game Sign (11×8.5 inches)
Banner (5×7 inches – Happy Birthday or print your own banner message!)
Want to see more before purchasing? See all my Fortnite Themed Printables HERE IN THE SHOP!
Please note templates CANNOT be edited for color, size, graphics or backgrounds in any graphic design program. Templates will ONLY work in Adobe Reader on your computer or laptop (not on a mobile device).