Check out three new Video Game birthday party themes for your Gamer. These themes were created for your tween or teen who can't get enough of their computer games.
Each one includes a full collection of editable templates for the most popular video game consoles around – Playstation, Nintendo Switch & Xbox.
Video Game Birthday Party Themes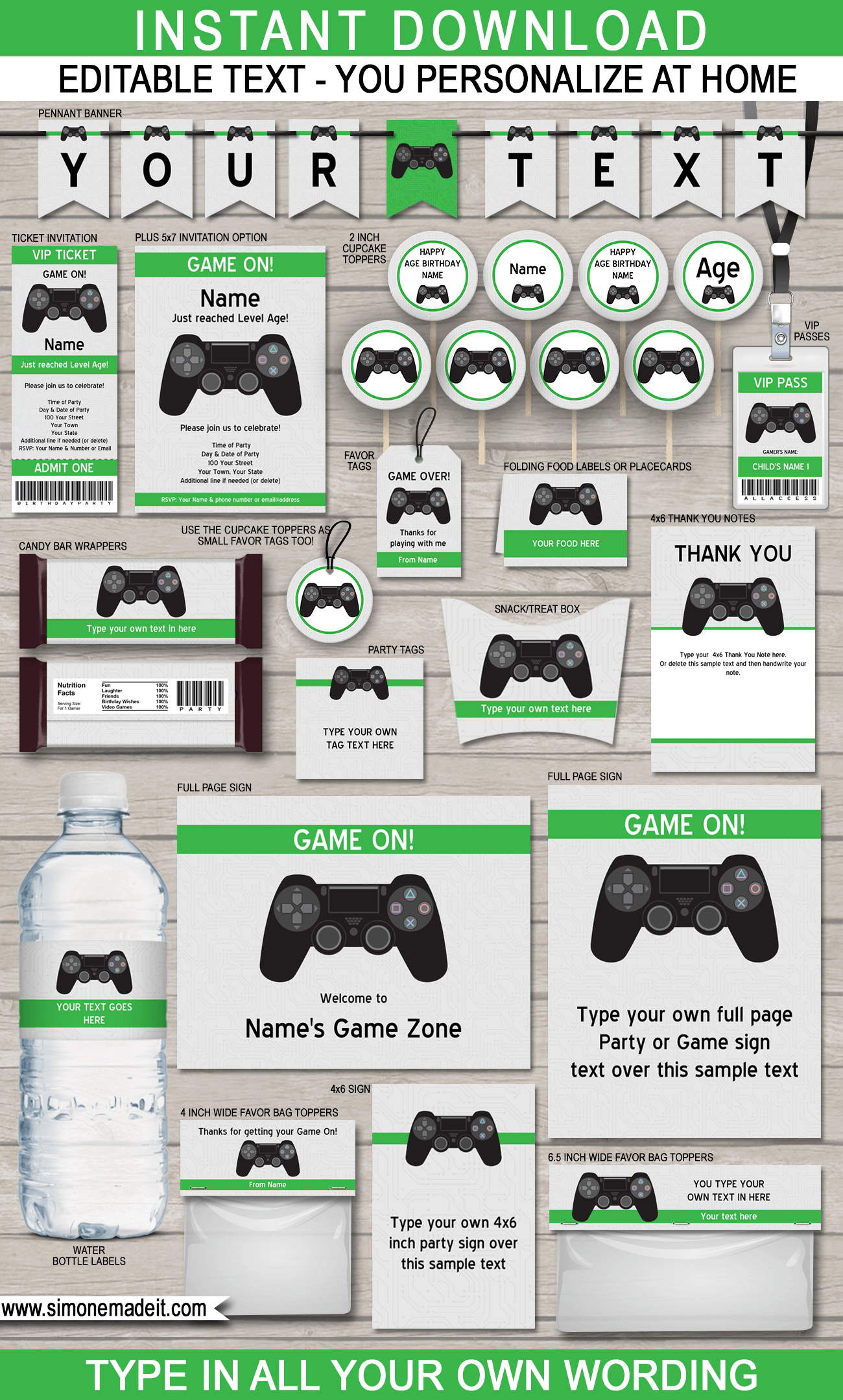 The three party themes feature a either a black Playstation controller, a red & blue Nintendo Switch controller or a white Xbox controller – each sitting on a gray computer chip background.
Instant Downloads
Each theme is available as an Instant Download. You will receive an email immediately after your payment has been processed with a link to your downloads.
You can also access the templates via Your account on my website – an Account will be automatically created for you when you make a purchase.
Editable Text
All the text in each theme is completely editable. This means that you can type in all your own party details yourself at home!
It's super easy – all you need is the free Adobe Reader on your computer and you are good to go. Simply open each template in Adobe Reader, highlight my sample text and start typing in your own!
Video Game Birthday Party Invitations
Each theme comes with 2 types of Invitations: both a 3×7.5 inch Ticket Invitation AND a regular 5×7 inch Invitation. You can choose which one you want to use.

Because all of text on these invitations is editable you can switch out my sample text for anything you like, or even use them for a different event (not just a birthday). Change the barcode at the bottom of the Ticket invites too!
Want to email the invitations out or post to social media instead of printing? You can do that! See how here.
Video Game Birthday Party VIP Passes
Kids will love getting their own VIP pass!
There are 8 passes on each page and you can type in each guest's name into each one. Have more than 8 guests? Simply change the names and reprint the page as many times as you need.
Each pass is sized 2.2 x 3.4 inches and fits standard ID Badges from your local Copy Shop (such as Staples) or even Walmart. Add a lanyard or ribbon and they are ready to go!
You can also laminate, holepunch and thread a ribbon through these VIP passes as a cheaper DIY option.
Video Game Birthday Party Decorations
Decorating your Playstation, Nintendo Switch or Xbox party has never been easier than with these printables.

Welcome party guests with these Welcome Signs.
Personalize it with the birthday child's name (or your own wording) and then print at regular US Letter size or use the bonus larger sizes: 11×17 inch or 24×36 inch. Australian customers are looked after too with the bonus signs available in A3 & A1 sizes.

Each theme has a full "Happy Birthday!" banner included for quick no-fuss printing, but you can also change the letters to print out your own custom banner message too.
Each banner panel is sized 5×7 inches each and comes with 2 panels per page. After printing you cut out each panel and string together on a long piece of ribbon.
Video Game Birthday Party Food Decorations
Each collection includes lots of different decorations for your video game party food.
Cupcake toppers, water bottle labels, folding food labels, snack boxes, candy bar wrappers – use as many, or as few, of these options as you like.
Take a better look at some of these options here:
These 2×8.5 inch Water Bottle Labels make dressing up your water easy. Simply remove the existing wrappers on small individual water bottles and replace them with these ones.
You can type in "Name's Age Birthday Party" onto the labels or even customize them with each guest's name.
If you plan on getting your labels wet see a cheap way to waterproof your labels or buy full-sheet water resistant labels.
There are 4 folding food labels per page for you to type up your Video Game theme food names. Perfect for last minute food preparation! Each label is 3⅓ x 2½ inches once cut & folded.
You can also use these as Place Cards too by typing in guest names instead of food.

Wrap 1.55oz Hersheys Candy Bars with these Candy Bar Wrappers. Type in your own text on the front of each wrapper, then type in your own Nutrition Facts on the back too (or just leave my sample ones).
These wrapped candy bars make easy birthday party favors too.
Video Game Birthday Party Favor Tags & Thank You Notes
Sending home party favors or Thank You Notes is easy with these printables.
There are 8 favor tags per page and each one is sized 2¼ x 3½ inches. Type in the birthday child's name and attach to your party favors for that personalized touch.
The Thank You Notes are sized 4×6 inches and come with 2 per page. You can choose to type in your thank you wording, or delete the sample text and handwrite your notes after printing.
INCLUDED TEMPLATES:
Full Instructions
Ticket Invitations (3×7.5 inches)
Invitations (Alternate design – 5×7 inches)
VIP Passes (personalize one with each Guest's name)
Thank You Notes (4×6 inches)
Favor Tags / Thank You Tags
2 inch Cupcake Toppers (2 pages!)
Food Labels, folding (or use as Placecards)
Snack Box
Small Water Bottle Labels (or use as Napkin or Treat wraps)
Party Tags (3.5 x 3.35 inches)
Candy/Chocolate Bar Wrappers (fits Hersheys 1.55oz bars)
Table Signs (4×6 inches)
Welcome Sign (11×8.5 inches – full sheet)
Party Sign (11×8.5 inches – full sheet)
Birthday Banner ('Happy Birthday' or print your own message!)
Treat Bag Toppers (4 inch wide)
Treat Bag Toppers (6.5 inch wide)
Patterned Papers
PLUS BONUS LARGE SIGNS:
Welcome Sign – Editable (11×17 inches & A3)
Welcome Sign – Editable (24×36 inches & A1)
Want to see more before purchasing? See all my Video Game Printables HERE IN THE SHOP!
Please note templates CANNOT be edited for color, size, graphics or backgrounds in any graphic design program. Templates will ONLY work in Adobe Reader on your computer or laptop (not on a mobile device).