Joyeaux Anniversaire! I'm kind of wishing I was young enough to have Paris Birthday Party! It's a new one in my shop and I love the colors, fonts and iconic Eiffel Tower imagery.
My Birthday Party in Paris collection features 28 pages of pretty designs to help you recreate Paris at home – purchase it here!
It also includes a fun Invitation Suite ~ comprised of a Postcard from Paris invitation, Passport to Paris, Boarding Pass and a Folio to hold it all together.
Let's start with the invitation. It's designed to be a Postcard from Paris inviting the birthday girl's friends to her Birthday Party in Paris.
You can type over all of the text in this invitation ~ you can even type in the birthday girl's name in the post-mark and her age in the postage stamp! All you need to be able to personalize this collection is Adobe Reader on your computer. Simply open the file and start typing over my sample text!
Send a Passport to Paris out with your invitations.
You can personalize the inside of these passports for each guest you are inviting. Each girl can receive their own Passport complete with photo.
Don't panic if you don't have photos of all the girls (or don't have the time to collect them!) – you don't need to put a photo on the Passport as the pretty Eiffel Tower graphic is all you need.
Personalize the Boarding Passes too for each guest. Don't like my sample wording on the Boarding Passes? You can change it all to your own wording ~ you can even change the barcode.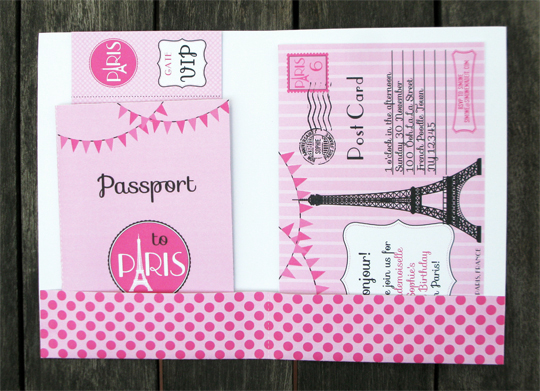 Place the Boarding Pass inside the Passport and pop them, together with the Paris Postcard invitation, into the included Folio before handing out to your guests.
All that's left is to personalize the front of the Folio with your own wording ~ and your unique Birthday Party in Paris invitation suite is ready to be delivered.
Of course, if that all seems too much, you can simply send out the Postcard from Paris invitations by themselves! It's up to you how much of this collection you print and use.
There are cupcake toppers included in the collection too – personalize them with the name and age of the birthday girl. If you don't have a 2″ circular punch, you can still use these as cupcake toppers ~ just trim out the squares with your paper trimmer/scissors and use them as squares instead (they look just as good!).
Create a Parisian Cafe complete with a menu! You can type in your own menu items on this menu.
And label your French inspired food with these folding buffet food labels. You can use these labels as place cards too ~ just type over my sample text with your girls names and reprint.
There are lots more designs included in this collection, including a Banner, Water bottle wrappers, Thank You tags, Thank You Notes, Party Tags and more! Check out all the details in my shop!